The Gorilla knows that old doesn't always mean a bad thing! And here is a perfect example. Sensi Seeds First Lady has pure genetics dating back centuries to the mountains of Afghanistan and Pakistan.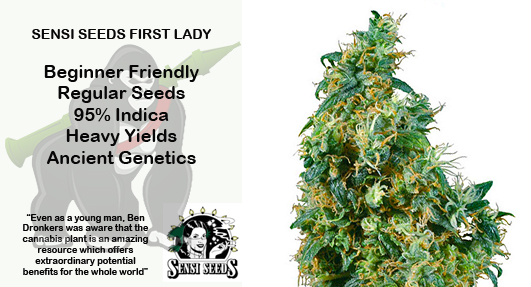 First Lady is an extremely high quality Indica, with the best quality resin we have yet to see in a cannabis seed. Used for centuries in traditional hash making, this ancient Afghanica is highly sought after by the Indica connoisseur for not only its massive yields and resin production but for the timeless taste and genetic purity that has developed over hundreds of years.
High Quality Afghanica
Centuries Old Pure Genetics
Massive Resin Production
First lady from Sensi Seeds has a sweet, spicy, earthy taste of times gone by and the powerful medical qualities usually found in modern hybrids. First Lady's effects has the typical buzz found in most of the purer Indicas and a long lasting body stone, but at 95%, she somehow manages to let you function? Well, the more experienced tokers anyway!
These First Lady seeds are only available in 10 packs of regular seeds. And for an incredible £43.99, we won't have them for ever – Get yours now!
Pure, Ancient Genetics, Centuries Old, Ready For You Today – Buy Them Now!