Four Way was created over generations of a closely monitored, intensive cross breeding project. The breeders used a wide variety of high quality ancestors and parents to select the best examples that gave the most consistent, interesting and desirable combination of traits.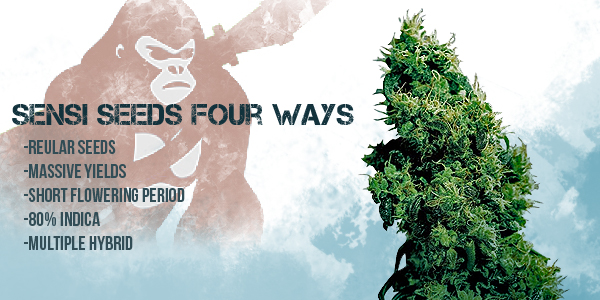 The project started in the 80s and Four Way can be found in the earliest cannabis seed catalogues. By 1995, Sensi Seeds had created the perfect multi hybrid from Afghani, Indian and Pakistani strains with the best stability, flavour and taste, and after a little more tinkering, they found the extra power they were looking for- Skunk #1.
Massive Yields
Short flowering period (45 – 60 days)
80% Indica
Multiple Hybrid
Sensi re-launched Four way, and ever since, it has been one of the most sought after hybrids for stoners and breeders alike. An amazingly sweet taste and scent with the speed, yield and power plus the high quality genetics in regular seeds makes for the perfect breeding specimen.
Sensis Four Ways are only available in regular seeds. A 10 pack costs just £46.99 and with this kind of quality, they'd be cheap at twice that price! Get yours now!
A Multiple Hybrid With Stability, Strength and High Quality Genetics- Grab Yours Now!