Sour Diesel is another medicinally approved hybrid seed from The Bulldog Seeds. But be careful – this bitch has a bite! Bred from the finest pedigree of NYC Diesel and the S.A.G.E. means you not only get the power of an absolute classic strain, but the flavour and aroma of another! A wise choice indeed!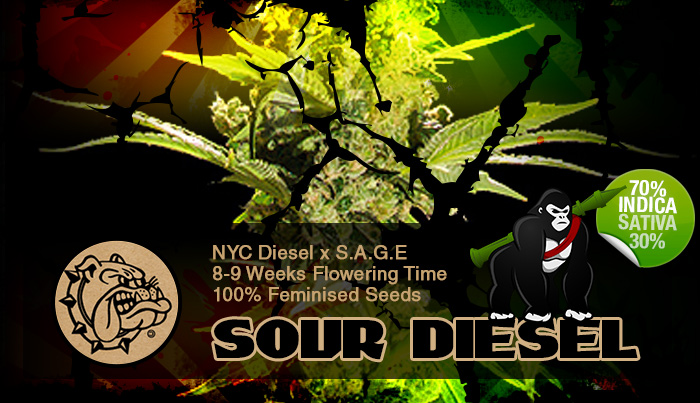 The Bulldog Seeds don't just cross their fingers and throw together any mutts when creating a hybrid. They work like dogs until what they had in mind is perfected. They go a step further than most breeders too – and test the CBD & CBN levels so you can tailor your cannabis seeds to your medicinal needs. Don't be afraid of the word "medicinal" this bitch still has a bite of 18.5 THC!
100% Feminised Seeds
NYC Diesel x S.A.G.E.
70% Indica – 30% Sativa
8-9 Weeks Flowering Time
18.5% THC, 0.19% CBD and 0.16% CBN
The Bulldog Seeds have been around for quite some time. Did you know that they were the 1st weed coffee shop in the world? Henk de Vries named The Bulldog Seeds after his four legged friend Joris and the rest is history! Probably the best known cannabis company in the business!
Sour Diesel are available in 5 packs of 100% feminised seeds for a jaw dropping £25.99 from Gorilla Seeds- we can't be beaten on price!
Been Working Like A Dog? Chill Out With Your Own Medicinally Approved Sour Diesel Seeds Today!