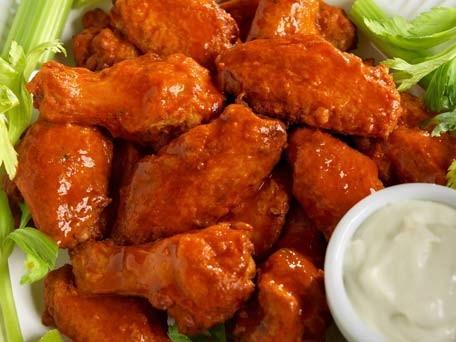 The Gorilla thinks edibles are the mutt's. If you agree, check out Nugs.com where you can "Find the Kind". This fairly new site was designed to help medical marijuana patients find a great local dispensary, but it's also got lots of good information, like awesome cannabis recipes, for the rest of us.
Check this sh*t out if you want to know what The Gorilla'll be cooking up one weekend soon:
Start Your Day Off Right with Chocolate-Canna Pancakes
Breakfast is the most important meal of the day, so we'd be remiss if we left it out. Plus, who doesn't like a little wake-and-bake? Nugs.com recommends cooking these babies up by adding canna milk to the wet ingredients then topping them off with a healthy dollop of canna butter – and they even give you separate instructions on how to make each in addition to the pancake recipe. What a way to start the day!
Pig-Out at Lunchtime with Cheeba Wings – Way Better than Buffalo
If you're not still comatose after those pancakes, the munchies might set in by lunchtime, but no worries. The Gorilla's serving up some spicy Cheeba Wings. Once fried to a golden brown, these babies are spun in a mixture of hot sauce, spices & double strength canna butter. This one's not rocket science, but who doesn't like hot wings?
Comfort Food for Dinner – The Stoner's Version of Grandma's Meatloaf
This one would work with anyone's meatloaf recipe because it's got a cheat in it. All you need to do is sauté your vegetables in cannabis oil to infuse them with THC before making up your meatloaf mixture. You could use the same technique with lots of other protein-based meal ideas from spaghetti & meatballs to Salisbury steak to pizza toppings. It's still a great idea that we hadn't thought of. Make this one your own & let us know how it worked out.
Satisfy the Midnight Munchies with Coco-Canna-Banana Cream Pie
Who doesn't like pie? And this one's right up The Gorilla's alley. The mastermind behind this pot-friendly recipe decided to spice up the flaked coconut by browning it in more canna butter, but we'd personally try cannabis-infused coconut oil for an extra burst of flavour. But hey – this one's got bananas in it, so it's got to be good! Either way, it'll definitely hit the spot when you need a little something, something right before you pass out for the night.
Like to toke or vape more than eat? No problem! Just check out their strain reviews to get as up close & personal as you can through a screen with something new. Don't blame us if you can't pull yourself away for hours!
Peace, love & good eats, The Gorilla!