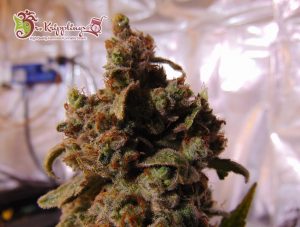 An elephant never forgets, but no one's as loyal as The Gorilla! When Dr Krippling sent him a big box of TWO UNRELEASED STRAINS, he could have kept them all for himself, but instead, he's giving them to you.
Place a small order (at least £19.99 in seeds), enter NEW in the coupon code section of your basket and we'll give you one each of Red Leicester Tease & Mind Can'Trol for free.
Red Leicester Tease – G13 Skunk X Cheese
Named for one of England's most iconic cheeses, Red Leicester Tease tempts, then delivers total & utter satisfaction with stoned-to-the-bone Indica power & 500 gr/m2 yields inside after just 8 weeks of finish. Outdoors? Who knows – those tests aren't in just yet, but we're betting they're gonna be whoppers!
Mind Can'Trol – G13 Skunk X Ganj of New York
By crossing his own double Diesel knockout with the legendary G13 Skunk, Dr K pimped out Ganj of New York until the results were seriously ridiculous, and "pimped out" is a direct quote from Dr Krippling himself. If you loved Gang of NY, you're going to go crazy for Mind Can'Trol. Brush off your straight jacket & oil up that wheelchair – you'll need both once this krippler takes hold!
More About Dr Krippling
Our weed connoisseurs at Gorilla Seeds have been enthusiastic fans of Dr. Krippling from our first taste. He's the mad genius who brought us superstar strains like Blue Kripple, Bubba Yum Auto, Incredible Bulk Auto and Grand Heft Auto. He's been hard at work in his mad genius labs, and now he's ready to blow your minds out of the park with two NEW strains that won't be formally introduced until October of this year.
If you love these two strains (and we're sure you will) you'll be able to order them in quantity from Gorilla Seeds starting in October. Or, if you can't wait, you can also get more of these seeds by placing more orders, so don't hold back!
Gorilla Seeds offers a wide range of regular, feminized and autoflowering seeds that fit every kind of need, whether your environment is indoors or out, or your hobby is large or small. Beginners can find an awesome variety of seeds that are low-profile, mold-resistant and fast flowering, while intermediates and advanced hobbyists can shop for more exotic species. Be sure to order today for the best selection – and the free preview seeds, one each, of Red Leicester Tease and Mind Can'trol from the Doctor himself.