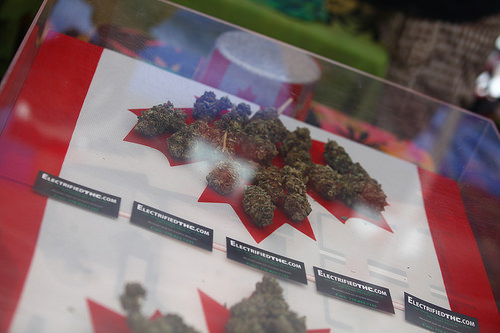 Thanks to Canada's Federal Court, medical marijuana patients will be able to grow their own medicine legally starting in just a few days, but they have to register with Health Canada first.
Canada Has 3 Ways Patients Can Now Get Their MMJ!
If you're approved to use medical marijuana in Canada, you'll soon have three ways to legally get your meds:
Grow Your Own Limited Supply
Get Someone Else to Grow Your Meds
Buy from a Government-Approved Producer
The rules are simple. Register with Health Canada and they'll give you a license to grow enough for your own purposes based on your medical needs. For example, if your doctor says you should use a gram of cannabis a day, you'll be approved to grow two outdoor plants or five indoor plants.
If you're not able to grow your own, you can have a designated grower. This person must not have had a drug charge in the last 10 years and can only grow for two people max.
And, if you buy your seeds or young plants from one of Canada's authorized producers, they will also be able to sell you enough cured flowers to see you through until your own personal harvest comes in.
What Happened to Change Things?
In 2013, Canada passed a law that said MMJ patients could only get their meds from a single, government-approved producer. Growing their own meds was not an option. Four people challenged that law in court saying that it was unconstitutional because it prevented them from having affordable access to medical marijuana. On February 24th, Judge Michael Phelan agreed with their argument and struck down that law based on Canada's Charter of Rights and Freedoms.
Although Judge Phelan gave Canada's federal government half a year to get their act together and form new regulations for home growing, he also said that the 28,000 MMJ patients who were already producing their own medicine under a 2014 injunction would not have to stop their activities in the meantime.
To take that thought a step further, Health Canada says they will not remove the injunction until their entire process is in place and they are confident they can handle the expected flood of applications from people who want to grow their own medical marijuana at home, so if you're one of the luck 28K, carry on, my friend – carry on!
What Strain Will You Try?
Canada is known for a wide range of award-winning cannabis strains, but the world is your oyster if you're starting from seed. At Gorilla Seeds, you'll find them all including classics like White Widow, Jack Herer and Critical Mass. But, there is something to be said for the latest generation of medical-grade AutoFems that have the capability of producing an astounding amount of cannabinoids, including high THC levels, in mere weeks instead of months.
If time is of the essence, we suggest you check out Fast Buds' incredible line of fully autoflowering seeds, and if you're not in a hurry, let Dr Krippling write your prescription for dank with The Incredible Bulk. Plant limits won't be a worry with that strain!