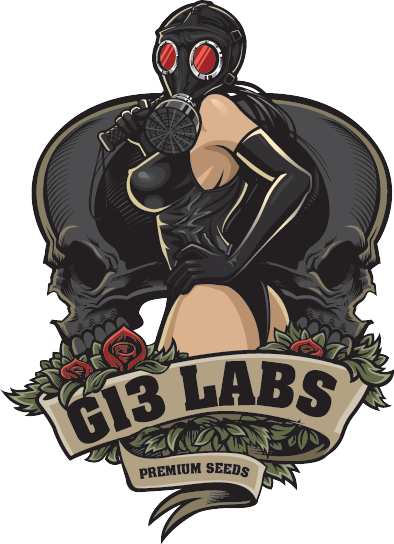 That gas mask isn't some weird sex fetish thing, even though the G13 Labs Agent who's wearing it is smokin' hot! That, my friend, is a testimony to the extreme strength & pungency that comes with each & every strain that is bred by the notorious G13 Labs!
Never heard of the G13 Labs Seed Company? That means they're doing their job! This crew got its start back in the late 1980s in the UK as an underground movement. The original "Agent" kept things totally hush-hush; you had to be in-the-know & have a trusted hook-up to get your hands on any of these high-quality beans.
Fast & Productive – High Yielding
Unique Flavours & Aromas – Intense!
Home of the One & Only Pineapple Express
All 100% Feminized, Many Fully Autoflowering
Get 20% Off for Paying with Bitcoins!
Eventually, more agents joined up to form a collective & G13 Labs moved to Amsterdam where great breeding isn't just tolerated – it's encouraged! There, the G13 Labs team were able to network with other breeders, expand their gene pool, and finally create an entire line of premium cannabis seeds that they could share with the world.
Today, G13 Labs is one of the brands we recommend most at Gorilla Seeds! The quality is consistently there, results are reliable and exactly as described, and these marijuana seeds always satisfy even our most difficult and demanding clientele – you know who you are!
Check out these Underground Strains by G13 Labs!
Pineapple Express – The Most Highly Sought-After Strain at G13 Labs!
So good it inspired one of the most beloved stoner flics of all times, Pineapple Express deserves a place of honour in every cannabis seed fan's collection. She might sound like an Auto, and there are some Pineapple Express Autos out there, but this one is all photoperiod, so you're in absolute control of this high-performance monster at all times. Pineapple Express is a true knockout that finishes so fast she'll make your head spin with intense highs, the biggest yields at G13 Labs, and strong, distinctive flavours & aromas. This one is a Skunk for the ages!
Fast Finishes – High Yields
Strong Lemon & Mixed Fruit Flavour
Revv It Up with Diesel Auto!
It's hard to improve on original NYC Diesel, but G13 Labs pulled it off! Their Diesel Auto Seeds pulls from the infamous Chem Dawg line for unbelievably fast finishes from seed paired with a strong but functional high that's mild enough for the workday. The flavour is outstanding – layers of lime, mandarin and lemon topped off with as full shot of heavy Diesel fuel. Best of all, these ladies give it up big time inside or out!
Very Easy – Great for First Timers
High Resistance to Mould & Fungus
Once You Go Double Black, You'll Never Go Back!
If you're looking for a true medicinal Indica, you can't go wrong with G13 Labs' Double Black! This is a super-potent Black Domina 98 back-cross with cash-cropping potential. The aroma is incredibly sweet, and a bit intoxicating on its own, but just wait until you get a load of the big, sparkling crystals. Clearly visible to the naked eye, you won't need a scope to see these beauties. We'll just say that extracts will not be a problem!
Original Black Domina 98 Genetics
Highly Resinous, Indica Dominant, Medical Grade
Buy Your Genuine G13 Labs Seeds Today – You Won't Be Disappointed!