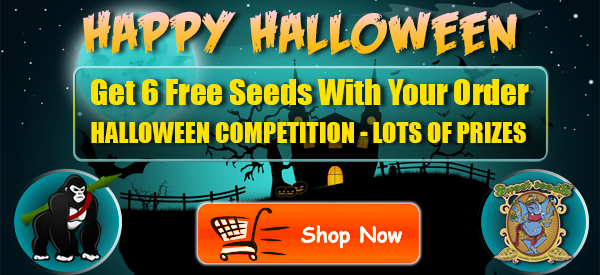 COMPETITION ALERT!!!
This ain't no trick – Big G is treating to you some SWEET seeds this Halloween if you're up for it.
To win, all you have to do is browse our site until you find all 5 Jack-o-Lanterns that have been hidden within our pages. Once you think you have all 5, submit your answer to [email protected]
The FIRST 3 ENTRIES with the right answer will win 50 very SWEET seeds this Halloween, and that's way better than a Gorilla-sized candy bar in our book.
It's getting cold outside, but Big G is heating things up with a brilliant free seed deal to finish out the month of October. All you have to do is place an order worth at least £36.99 in seeds and we'll toss in a total of 6 amazing freebies – 3 X Feminised Seeds Easy Kush and 3 X Sweet Seeds Cream 47 – to top things off!
That offer starts now & lasts until they're all gone – or the clock winds down at 6 PM on 1st November. It sounds like you have plenty of time, but if you've been around for ½ a second, you know how fast we sell out!
Here's what you could get if you order now:
Feminised Seeds – 3 X Easy Kush
Why work hard when you can have it Easy? This 100% feminized seed is the simplest, most trouble-free gear we sell at Gorilla Seeds, bar none, but there's nothing junior league about their power. These crystal-coated beauties are bursting with THC!
Extra Hardy & Pest Resistant
High Yielding with Early Finishes
Sweet Seeds – 3 X Cream 47
Sweet Seeds went all out with this Cream Caramel X AK-47 cross. Not only will the power knock you for a loop, the sweet, candy-like flavour and aroma will tempt, tantalize and tease until you think you can't take it anymore. But trust us – you'll be back for more!
Up to 650 gr/m2 Inside
Balanced – 50% Indica, 50% Sativa
It's always 4:20 somewhere,