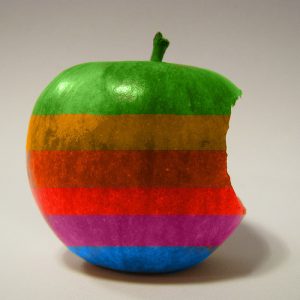 According to Silicon Beat, Apple ain't talking, but public records show that this global tech company recently applied for a patent for a state-of-the-art vaporizer that could be used for dried flowers and concentrates – or something else totally not weed related.
Here's what we do know:
The patent application was submitted in July – soon after California put recreational pot legalization on the ballot.
The patent describes their new gadget this way: "an apparatus for vaporization or sublimation of a substance."
The application goes on to say the "substance" could be a solid or a liquid chemical. Could that refer to bud vs. dab?
There is already an iVape brand on the market. How much will it cost Apple if they want to go with that name?
Insiders are understandably skeptical about Apple making the jump into the cannabis industry while weed is still illegal on a federal level in the United States, so they could be preparing for something totally new in the computer or gaming world, it could be for a more traditional e-cig device or it could be intended for something we'd never guess in a million years.
Or, maybe Apple has reason to believe things will change really fast. Considering the Volcano sells for between $300 & $500, we think you could soon see lines wrapped around the block when and if the new Apple iVape is launched – just like they were when iPods, iPads and iPhones were released in the past.
It would certainly make a visit to the Genius Bar a whole lot more fun!
What Makes the Alleged iVape Different?
This is how the US patent (US 2017/0023235 A1 published Jan 26, 2017) reads:
Abstract: A chamber body is to receive therein a substance that is to be vaporized or sublimated into a vapor. A plate whose bottom face rests on the substance inside the chamber body is temperature regulated, e.g., using a heater therein, which releases heat directly above the substance that lies below. The plate slides downwards as the substance is consumed by vaporization or sublimation. Other embodiments are also described and claimed.
If we interpret that right, it means the Apple iVape will heat from the top down, using pressure, for a more efficient and better controlled vaping experience.
Our next question: When does Apple start recruiting for product testers?!
Here are some illustrations from the patent to give you an idea of what Apple is thinking: