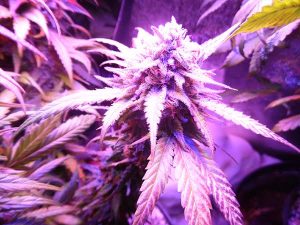 The Gorilla got his big hairy mitts on what promises to be one of the best 100% feminized seeds to be released for 2017, Purple Envy, but there's no need to be jealous. He's spreading the wealth!
Everything is still in the works, but we're already planning some awesome giveaways for our paying customers, our Facebook friends and our mates on 420Mag, Rollitup & CannabisKnowledge.nl. Pay close attention – we don't yet know when these awesome freebies will get handed out, but handed out they will be!
In the meantime, if you simply can't wait, you can pick up anywhere from a single bean to a full 10-pack on our site. Fair warning – these grape-scented beauties ain't cheap, but they're well worth the price!
Now that we've got your interest piqued, here's the 911 on these new creations put out by the
Feminised Seeds Company:
Multi-hybrid that includes DNA from the best genetically purple strains on the planet including Purple Urkle, Grape Ape and the one & only Original Grand Daddy Purp – plus a few more lesser known varieties.
Does not need cold air to turn a luxurious shade of purple, but it will take time. Towards the end of the finish, individual calyxes will start to go from neon green to glitter-coated violet, and that process continues well into the cure.
Mostly Indica with big, fat, resin-encrusted buds. There's little to no popcorn, and a high bud to leaf ratio for easy trims. They can be taken as early as 8 weeks, but don't miss out on the late swell & colour changes. Big G says hold tight & go to 10 at least, or maybe even 11. You'll be very glad you did!
This is, without a doubt, one of the finest, Grade-A cannabis seeds we've seen come out of Spain in years, and that's no exaggeration. The bud structure and bag appeal are top notch, but when in anything from a blunt to a bong, this silky smoke has a sweet, grapey aroma that could double as the finest incense. Trust us – if you could bottle Purple Envy Feminized Seeds subtle bouquet and turn it into air freshener, you would!
Finally, if concentrate strains are your thing, you will not be disappointed! Purple Envy Seeds ooze with resin with a thick layer of visible crystals on not only the sugars but all the smaller fans. Even the trim is like pure stoner gold. Don't miss out on this incredible true Purple strain. You'll love it!
Order Your Purple Envy Cannabis Seeds from Big G Today!