Celebrate Cyber Monday Big Time with Big G!  He got so smashed over the weekend he told us to cut prices by 45%. He'll regret it when he sobers up, but that's going to take awhile. So, enjoy Cyber Monday while Big G is passed out somewhere … once his hangover takes hold, these savings will be history!
Until that happens, we'll pick one of our best-selling brands at random each hour and slash their prices by 45%. When that hour is over, that one will come down and another brilliant set of beans will go up. No one knows which ones they'll be or who will go first, and that's what makes this sale so much fun. Get your cuppa ready because it's going to be quite a show!
For 24 hours, these killer deals could include Dr Krippling, Barney's Farm, Fast Buds, Cream of the Crop …. or any other brand featured on our site!
Everything listed on the Gorilla Cyber Monday Sale will be discounted by an unheard of 45% OFF for the entire hour they're in the spotlight, while stock lasts. Grab'em while you can – you may never see savings like this again on the world's top brands of cannabis seeds!
Take me to the Sale
Supplies are limited. Stock is not reserved until payment is received. And, we reserve the right to limit quantities if you get too greedy.
Why Cyber Monday?
All the Yanks who're still so stuffed from their Thanksgiving Feast that they can't roll out of bed before sunrise to brave the malls and shoppes for Black Friday sales in their pajamas have made Cyber Monday a thing. Instead, they now wait until they go to work the next Monday so they can use the office's internet while they're clocked in to surf for deals on amazing, must-have items at the absolute cheapest prices.
This practice has spread and now we're all doing it. Take advantage of everyone else's laziness – and Big's bad habits – to save big on the world's finest cannabis seeds this Monday!
Win Pyramid Seeds TutanKahmon
Big G wasn't content with just discounting Top Branded seeds by 45% to his customers. He's giving away Pyramid Seeds Tutankhamon Feminized for free with absolutely no purchase necessary. These genetics are pure fire! To find out how to win this high-caliber gear, continue to read all the way to the end of this post.
Pyramid Seeds Tutankhamon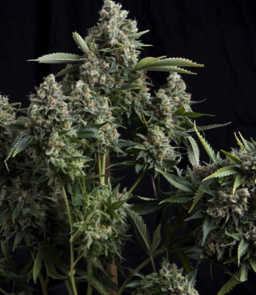 Tutankhamon by Pyramid Seeds is a very special AK-47 pheno with astronomical power! Rumor has it that and independent tester at Spannabis Barcelona 2011 found that the buds entered for that specific cup measured in at over 30% THC. That's hard to believe, but Pyramid says even typical hobbyist generally get 23%, and that's nothing to sneeze at!
With that kind of power plus satisfying yields, a pleasant fruity aroma and taste, and an unrelenting Sativa high has made Tutankhamon one of Big G's best selling feminized seeds year in and year out. This one does not disappoint!
Can you believe we're giving away 30 of these seeds for free? Continue reading to learn how you can get some of the world's most highly sought-after high THC seeds for absolutely no cost to you, not even shipping!
How to Enter!
We are giving away  Pyramid Seeds Tutankhamon – 5  seeds to each winner . Enter on any or all of the following platforms to increase your chances of winning! Winners Winners to be announced on the 4th December 2019 or thereabouts!
Facebook 2 Winners Each to receive a 5 Seeds of Pyramid Seeds Tutankhamon Femnized Seeds: Simply comment on THIS POST and of course give it a like and a share. Please mention something about this cool strain!
BLOG: To enter via the blog post; simply comment below.
Good Luck all, winners will be announced on and around the 03 Dec.
Never Forget,
BIG G
#GORILLASEEDS!
#GorillaPromos
#CyberMonday