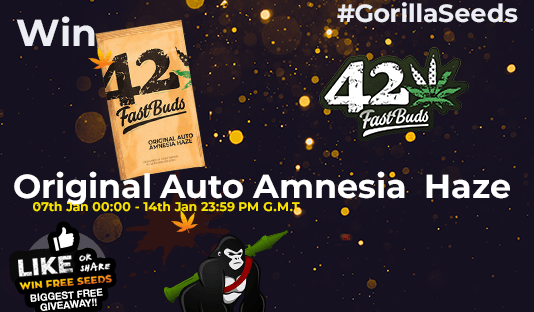 Fast Buds is dropping their NEW ORIGINAL AUTO LINE within days and Big G is all over that sh*t like each case was filled with perfectly ripe bananas! To celebrate, he's giving away as many packs of Fast Buds Original Auto Amnesia Haze as he could get his big, hairy mitts on. Read all the way to the end of this page and we'll tell you all the ways you can enter for your chance to win!
So, what's special about these Original Autos by our friends over at Fast Buds? They've spent years sampling the best American and Dutch strains, personally testing the potency and flavors, then putting each of these lessons through their paces to make sure they perform each and every time. When they were done, Fast Buds ended up with 13 of the world's best and most reliable autoflowering seeds.
With names like Original Auto Chemdawg, Original Auto Critical, Original Auto Sour Diesel and Original Auto Skunk, they've covered all their bases with fast-finishing strains that are guaranteed to satisfy every need, desire and whim of their demanding customer base.
If you've ever tried a Fast Buds AutoFem, you know this crew does not disappoint. And, if you have never had the pleasure, isn't it about time you did? Especially when you stand a great chance of winning a pack of Original Auto Amnesia Haze for absolutely free with no purchase required
We're expecting these new Autos to sell like gangbusters, so if you plan to buy, don't wait long. We can't promise how long our stock will last!
Win your FastBuds Original Amnesia AK from Gorilla Seeds before they sell out!
Remember, Gorilla Seeds is a safe and legal zone. We're located in the UK where it's legal to own and sell cannabis seeds but not to germinate or grow them. That means we only sell legal souvenirs and strictly prohibit any illegal use of our products. 'Nuff said!
Original Auto Amnesia Haze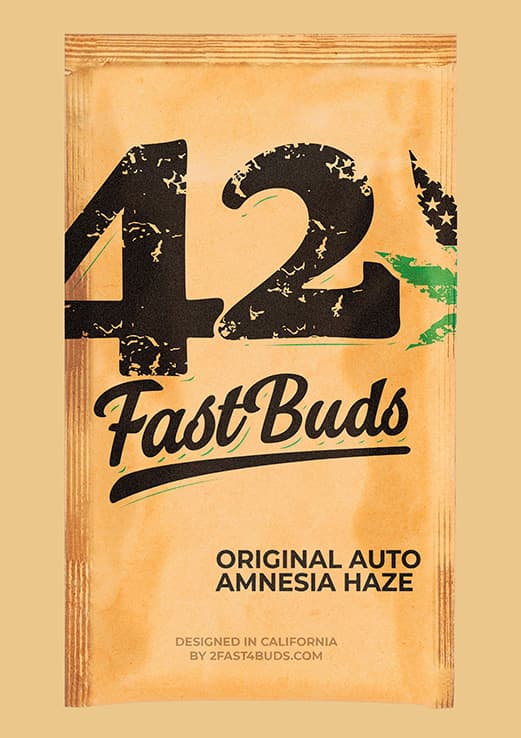 What's not to like about a Sativa that can do her thing in just 10 weeks from the time you start while reaching a whopping 22% THC, 650 gr/m2 inside and still deliver a breathtaking head high that's so strong you'll hear your brain sizzle? That's exactly what Original Auto Amnesia Haze can do!
Denser than your typical Haze, Original Auto Amnesia Haze has beautiful flowers that rival even the best photoperiod strain. They're big and chubby, fattened by swollen calyxes and an unbelievable amount of resin. They're bursting with terpenes for a strong, almost overpowering aroma that stinks of ripe oranges and tart tangerines. The taste? Matches perfectly, what else!
Want to hear more about the high? Of course you do! Original Auto Amnesia Haze begins by lighting up all your circuits for a stimulating experience that's energetic, focused and a bit motivated. Much later, it gently nestles your cerebellum in a warm cloud of pleasant happy thoughts for a general sense of well-being. If you fancy yourself an artist or philosopher, this is the cannabis seed for you!
How to Enter!
Just Comment on any of the below seven platforms & mention something about this cool strain!
Facebook : Simply comment on THIS POST.
420 Magazine : Simply comment on THIS POST.
OverGrow : Simply comment on THIS POST.
Rollitup : Simply comment on THIS POST.
Percys GrowRoom : Simply comment on THIS POST.
Autoflower.net  Simply comment on THIS POST.
GrowRoom420 Simply comment on THIS POST.
THC Talk Simply comment on THIS POST.
BLOG: To enter via the blog post; simply comment below.
Winners
Congrats to ALL! Thank you to everyone for entering!
FaceBook John Panzino
420 Magazine Preston9mm
OverGrow invisible
Rollit Up Hust17
Percys rockyracer
Growroom420 sageridder
THC Talk Silkadin
Blog : Josh Limburg lb**[email protected]
To Claim your prize.
Please email andyATgorilla-seeds.co.uk with the following :
A screen shot of the competition you entered
 Proof you are the winning user -usually a screen shot.
Your name &  Address
Disclaimer: All free seeds (prize winnings) are mailed to the winner via Royal Mail. If lost in the mail, we will not be able to replace the prizes. Please contact your local postal service for help.
Disclaimer 2: Gorilla Seeds only sells or gives away collectible souvenirs and adult novelty items. It is illegal to germinate or cultivate seeds in the UK and most other countries. We do not encourage, condone or allow any illegal activities.
Looking forward to the coming season,
BIG G
#GORILLASEEDS!