FROM NOW until Friday 02nd October 23:59, UK
Time, receive Free Greenhouse Seeds Kalashnikova 4 Seeds on all purchases! .
You don't even need a coupon code; as soon as you add beans totaling over £34.99 ( Not including postage and packaging) Greenhouse Kalashnikova X 4 will automatically jump into your basket.
How cool is that?
All existing free seed deals still apply – this means you can grab loads of beans as long as you place your order before the deadline. .
Win Greenhouse Seeds Kalashnikova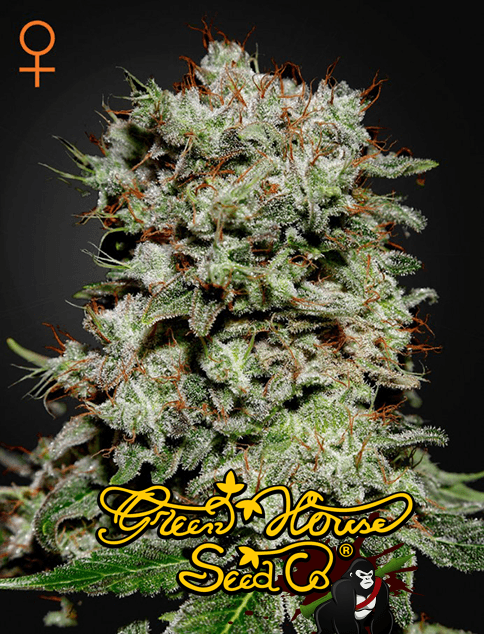 Once again, Big G partners with Amsterdam's Green House Seed Company to bring you some of the best freebies you'll find anywhere – Kalashnikova feminized seeds. This pairing of genuine AK-47 (the famous one-hit wonder) with classic White Widow (the most resinous of them all!) brings you true tolerance-breaking power plus enough icy-white crystals to choke even the greediest oil consumer. Sticky icky this one be!
After a mere 8 weeks of bloom, Green House's Kalashnikova can produce up to 750 gr/m2 of big, blocky, castle colas made up of plump, dense flowers literally bristling with swollen trichomes. Outside, these marijuana seeds are equally generous & fast with a September end date and yields equally nearly a kilo per.
Kalashnikova's effects start off with face-numbing tingle that quickly extends all the way to your fingers and toes, with all but the most tolerant experiencing a heavy, long-lasting stone that can go all the way to couchlock for those who don't know their limit. A happy, crystal-clear head high sits on top of the more extreme chill to lighten the mood.
For those who are new to Green House Seeds, this breeder has been in business for decades and has went further than anyone to preserve rare landrace genetics. They are the home of both the Strain Hunters documentary series and the Strain Hunters line of fine genetics. You simply can't go wrong with this brand, especially when they're part of The Gorilla's free cannabis seeds!
How to Enter
We are giving away 16 prizes of Greenhouse Seeds Kalashnikova 3 seeds, enter on any or all of the platforms below to enter, comment on more than one platform to increase your chances of winning.
Facebook: Please comment and like THIS POST  (Winners Paul Horner & Wes Young)
Instagram: Please comment on THIS POST  ( Winners : snaylor03 & cee.tee.213)
Overgrow.com: Please comment on THIS POST ( Winners : JBow918 & ChronicMcBudz )
Rollitup.com: Please comment on THIS POST ( Winners : mmjmon & spliffendz)
Autoflower.net: Please comment on THIS POST ( Winners : Ben Curley & St. Tom)
Growroom420.com: Please comment on THIS POST  ( Winners : The Shanchez & Joshuaarr420 )
420Magazine.com: Please comment on THIS POST ( Winners : EhCndGrower & The Phantom)
The GreenHouse NL[Private FB Group!]: Please comment on THIS POST( Winners TBA Soon)
Blog: To enter on the blog post, please comment below! ( Winners Marty Coles & Black Sheep )
Winners
Winners are listed above next to each platform. To claim your prize please follow the following instructions before 12th Oct 2020.
Email andy[AT]gorilla-seeds.co.uk with the following details.
Proof you are the winner e.g. A screenshot of your profile.

Your Address.
Thank you to Greenhouse Seeds and everyone for taking part and making this promo possible.
Peace
The Big G
#Gorillaseeds