FROM NOW until Friday 30 Oct 2020 00:00, UK Time, receive 3 X Mong-u-Mental from Dr Krippling Seeds for FREE on each and every order. This special Halloween promo is only available while Stock Lasts!
Please note the Gorilla sends all gift seeds in official breeder packaging. These free seeds are the genuine article presented in Dr Krippling's Official Sealed Gift Packaging
All existing free seed deals still apply – this means you can grab loads of beans this weekend when you make an order
Simply make an order during promo time and the seeds will automatically appear in your basket completely free of charge! How's that for a Halloween treat?
Win Dr Krippling Mong-u-Mental Seeds – 12 Prizes
Big G's scary enough on his own so he skips shopping for a ghoulish Halloween get-up. Instead, he spent that extra time sorting out a special treat for his loyal fans. This year, he ganged  up on Dr Krippling to bring to you his most awesome Halloween promo yet. We know you guys absolutely love Dr Krippling because we get hundreds of emails every month from customers all over the globe requesting these tidy beans for their humble shenanigans.
The entire Dr Krippling crew is a little banged up, but they'll fully recover in plenty of time for New Year's. Before they shuffled off to hospital, they did hand over a fistful Dr K Fems that we'll toss hand out as special Halloween treats.  Read more about these beans before you enter:
Mong-u-Mental – High-Yielding Couchlocker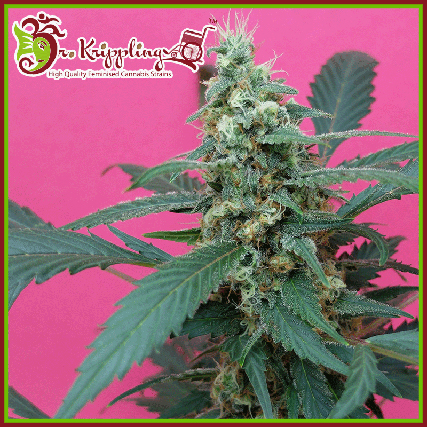 Mong-U-Mental is near-narcotic strain with a certified couchlock that's way too strong for many. With a 19.5% THC level, this feminized seed by Dr Krippling definitely has staying power. Plus, the yields are shockingly good – up to 850 gr/ms inside, 700 gr/seed outside & 1100 whopping grams each in a greenhouse. That's a sh**-load!
 As always, Dr Krippling balances sheer power and reliable yields with tantalizing tastes and smells. The fragrance is a tempting combination of citrus, berries and diesel while the flavour is a multi-layered blend of sweet & sour fruits topped by spicy pepper with threads of soft musk underneath. Mong-u-Mental is a real looker too, topped by tightly coiled, spear-shaped colas gleaming with terpene-filled resin crystals!
How's that for a colourful Halloween treat? It would most definitely round out our wish list for any holiday! And, Big G is giving them away for free.
How to Enter!
We are giving away 12 Prizes, 5 seeds of Mong-u-Mental to each winner so that's a total of 60 Seeds to be won . Enter on any or all of the below platforms to increase your chances of winning!
Facebook: Please comment and like THIS POST (2 Prizes).
Instagram: Please comment on THIS POST (2 Prizes).
Overgrow.com: Please comment on THIS POST (2 Prizes).
Rollitup.com: Please comment on THIS POST (2 Prizes).
Autoflower.net: Please comment on THIS POST ( 2 Prizes).
Growroom420.com: Please comment on THIS POST  (2 Prizes).
Blog: To enter on the blog post, please comment below! ( 2 Prizes)
 
Good Luck all, winners will be announced on and around the 04th of Nov.
PEACE,
BIG G
#GORILLASEEDS
Winners
Congratulations to the winners listed below!
Facebook: Mīk Pugh & Garry Sergeant
Instagram: pk.parrot & thisbudsgrow
overgrow: SerialSquishy & BSotF420
RollitUp: TommyTutone & Doug Dawson
Autoflower.net: JSH1973 & FredGarvin
Growroom420: TTL & Son Goku XD
Blog: eu***[email protected]**il.com & david.mort*****@g***l.com
All winners please email andy[AT]gorilla-seeds.co.uk including your name and address and proof of the winning profile such as a screenshot of your profile page,!