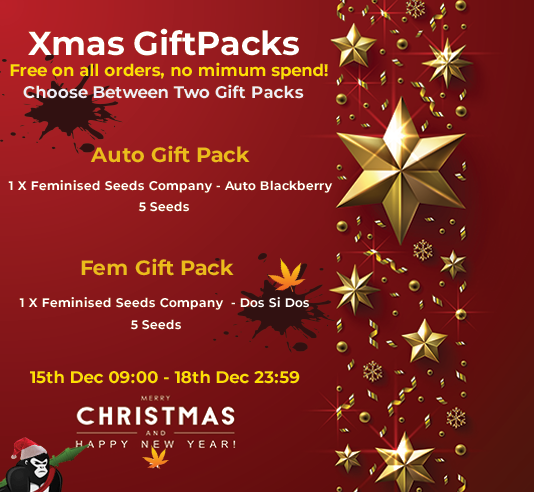 Browsing for your own holiday gift? Of course you are! What else is there to do during lockdown but look at shiny pics of crystal-covered cannabis flowers while you wait for your freedom to be restored?
Since Big G is staying home too, he put some extra thought into this year's Christmas special and he's got a doozy for you. First, we'll tell you what our big, hairy beast of a Santa is tacking onto every order, then we'll tell you how you can win an amazing new strain with no purchase necessary.
Between now and Friday 18th December, every order you place will land you a Choice of 2 top Gifts Packs.
AutoFlowering Gift Pack
Feminized Gift Pack
If you're cash strapped like so many during the pandemic, we don't want you to feel left out. We have something for you, too! Read on to find out how you can win a brand-new seed for FREE – no purchase necessary.
WIN Barney's Farm Mimoma Evo!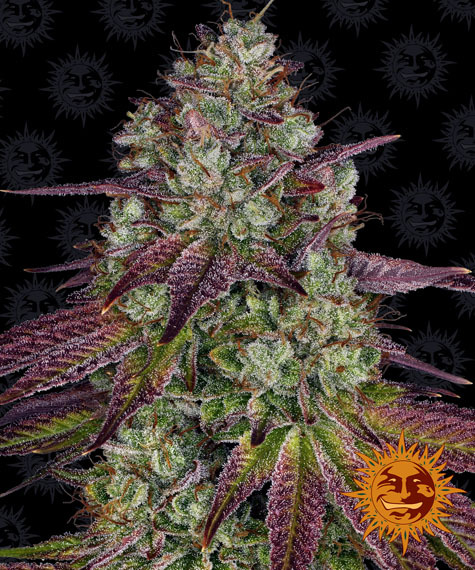 Just when you think 100% feminized seeds couldn't possibly get any stronger, Barney's Farm moves the bar once again. Their new Mimosa Evo is capable of reaching a brain-melting 30% THC in the right hands. When left to mere mortals, she still reaches deep and pulls out an incredible 24-26% THC. Yields are wicked good as well at 700 gr/m2 inside and 2000 gr/seed outside. How cool is that?
Mimosa Evo is a real beauty too! Mere words will not suffice, so just gaze adoringly to the left. The taste and smell are just as intense as the power with the syrupy sweetness of perfectly ripe oranges, tangerines, lemons & berries. Finally, let's talk effect. It's breathtakingly strong & long lasting, but not a couchlocker. Instead, you'll float weightlessly in a fruit-scented cloud of dreamy euphoria and relaxed happiness without a trace of anxiety. What a way to spend the day!
Win your Mimosa Evo Seeds from Gorilla Seeds while you can!
How to Enter!
We are giving away  Barneys Farm Mimosa Evo – 3 seeds to each winner. Enter on any or all of the following platforms to increase your chances of winning! Winners to be announced on 23rd December 2020 or thereabouts! Please tell us why you like Barneys Farm Seeds so Much!
Facebook : Simply comment on THIS POST  and of course give it a like and a share. Please mention something about this cool strain!
OverGrow : Simply comment on THIS POST. Please mention something about this cool strain!
Rollitup : Simply comment on THIS POST. Please mention something about this cool strain!
Autoflower.net : Simply comment on THIS POST. Please mention something about this cool strain!
BLOG: To enter via the blog post; simply comment below.
Winners!
Thank you to everyone for taking part – we've had loads of comments – so totally awesome!! Lucky winners listed below:
Winners to claim prize please email andy[AT]gorilla-seeds.co.uk Please include the following
i)Proof of profile (usually a screen shot of profile)
ii)The prize you won.
Please contact me no later than the 02nd January.
Disclaimer: All free seeds (prize winnings) are mailed to the winner via Royal Mail. If lost in the mail, we will not be able to replace the prizes. Please contact your local postal service for help.
Disclaimer 2: Gorilla Seeds only sells or gives away collectible souvenirs and adult novelty items. It is illegal to germinate or cultivate seeds in the UK and most other countries. We do not encourage, condone or allow any illegal activities.
Happy Holidays,
BIG G
#GORILLASEEDS!
Any issues with your order? Just get in touch with us via our Support Centre and we'll be happy to help.