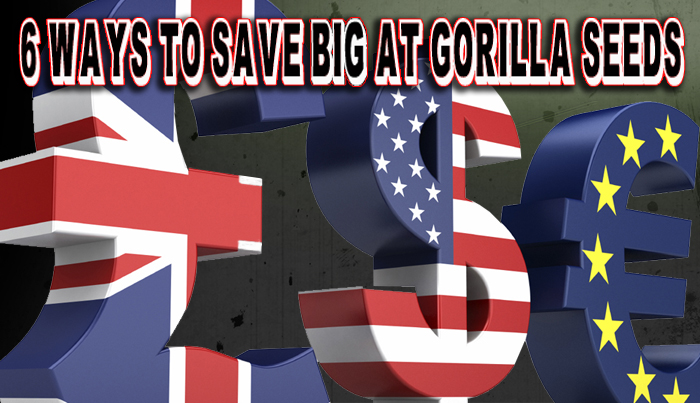 Fancy saving your hard earned cash and spending it on something more important? Ok. There's very few things more important than high quality cannabis seeds, but if you want to make your money go a little further, then here's a few tips from The Gorilla:
1.Totally Free Seeds: Freebie, gratis, nada, nowt, Scot free – you get the idea, not a single bean for weed seeds! Follow us on Facebook and our sponsored forums to take part in our famous seed competitions. We've hooked up with the best breeders on the planet and always have free beans knocking about with your name on them. You can even comment on out blogs if you're not a social hound – that's where we offer our bonus deals.
2. Free Seeds With Qualifying Purchases: Our gift to you! Other seedbanks have followed by example and offer Free Seeds, but who else offers this-
Spend £34.99 and the fun begins – 1 Big Bang 2 Feminised Seed FREE
Go over £59.98 and 1 Critical Auto Seed is yours GRATIS
Push past £89.98 and 1 The Widow Feminised Seed is in the bag
Reach £119.98 in your basket & Super Iced Grapefruit is coming home with the rest!
BONUS: Buy any Paradise seed and receive 1 Paradise Seeds' Auto Seed FREE
BONUS: Buy any TH Seed and you get 2 feminised Sage N Sour – Wise choice!
It's Simple, Spend More – You Get More. No One Is As Generous With Seeds As The Gorilla
3. Periodic Promotions: Quite often, when the Gorilla's in a good mood, we bump up the deals. Most of the time, you'll get 10 FREE SEEDS when you spend over £30. You can't even buy 10 Seeds for £30, and it's the best of gear – The Gorilla only ever stocks the best of the best.
4. Discount Codes: If you don't live under a rock, you know we always have a discount code on the go. 5, 10, 15 and whopping 25% discounts can be had at any moment, but you need to keep your eyes peeled for these. They normally only last a few days or a week at a time and are usually limited to the first 1000 customers.
5. Save 15% By Paying Cash: Money talks and cash is the universal spokesman. Let's face it – credit cards, bank transfers, & bitcoins are all good, but the tried and tested method is "cash in the hand." Greenbacks, Loot, Moola, Lucre, dosh – what ever you call it, it's all the same. Just remember to select your currency on the checkout page and we'll do the rest!  (Please send tracked mail with insurance if available for your own safety & protection. )
6. Cheap Seeds: Depending on The Gorilla's mood, you could get up to 50% off his favourite weed seeds – these aren't widely advertised so you need to be tight with G or lucky enough to spot them (or smart enough to check our cheap seeds page). There are always limited to 1 pack per customer at the discounted price. Buying the same seeds at the regular price is also a saving anyway – it's a definite win-win.
So, there you go – 6 little tips on how to make your money go lot further. Just remember: The more you spend the more you save.
KEEP IT REAL KEEP IT GORILLA