Grrrr Woof!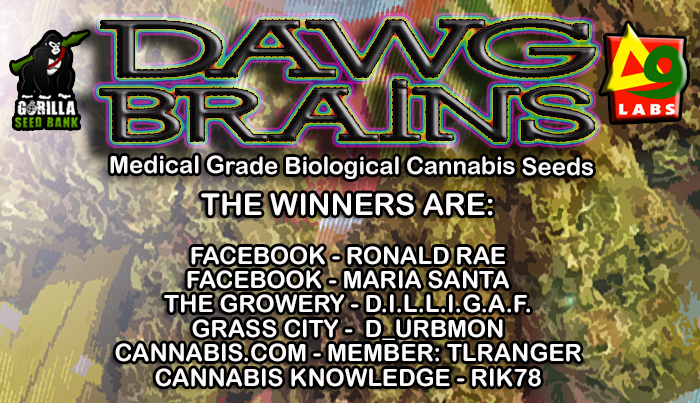 Delta-9 Labs worked like a Dawg to bring you the chance to win their new Dawg Brains hybrid – a killer mix of Chemdawg #4 crossed with their very own Brainstorm Haze.
70% Sativa – 30% Indica
55-65 Days Flowering
Sweet Chocolate/Cheese Scent
Regular Seeds
When Delta-9 Labs saw that this comp reached thousands of people worldwide, they were so happy that they've promised to come back with more freebies in the very near future. So keep your eyes peeled – The Gorilla will be announcing more giveaways soon.
You rocked the Gorilla Seeds Facebook page with a ton of Likes, Shares & Comments about Delta-9's Dawg Brains, but our sponsored forums were busy too. As a thanks, we've decided to pick a winner from each forum as well as 2 lucky Facebook fans to each get a prize.
The Lucky Dawgs are:
All winners should message me through Facebook or forum pm system – we'll get your details and your very own Dawg Brains will be in your hands in no time!
The Gorilla can't re-send competition seeds. All seeds are sent recorded delivery unless you ask for regular postage. If they go missing, you must deal with your own Post Company or customs.
All winners are chosen at random and fairly allocated to our customer base. Winners names will be published on our various sites and you are expected to post a picture of your prize on your Facebook or forum page.