Congratulations  to our winners – it was really fun and no one actually found the hidden pumpkin description, so… we gave all the winners the 1st prize of the Gorilla Love Kit and a 5 pack of Feminised Seeds! We will make the next competition a bit easier, lol.

The hidden pumpkin description was here – Critical Soma from Advanced cannabis seeds. We changed the description to:
This little legend will blow you out the water and not just with her mind-numbing 18% THC. Blessed with super speed, flexibility and stability, this feminized cannabis seed is a game changer.
Seasonal addition – during the fall holiday season, many adorn the front of their homes with a special type of squash that's also known as Cucurbita pepo or Cucurbita maxima. These fruits or vegetables (depending on who you ask) are usually round or oblong with a smooth, slightly ribbed surface & colored a deep yellow to bright orange – although some can be nearly white. The inside of the thick shell contains seeds that can be roasted for a healthy snack as well as pulp that's often used as pie filling.
Hollowed, carved and lit by candle (and often named Jack like so many popular cannabis seeds), this special squash is a spooky favourite with kids of all ages.
So a big thank you to all our Facebook, Twitter, Instagram, and Tumblr fans. We also had a load of email entries and the winners were: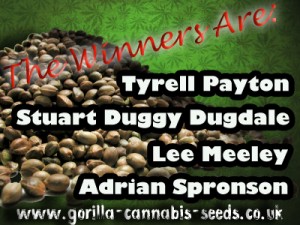 Tyrell won – Feminised Seeds Super Cheese Cheese 5 Pack
Stuart Won – Feminised Seeds Super Cheese 5 Pack
Lee Won –  Feminised Seeds – Bing Bang 2 5 Pack
Adrian Won – Feminised Seeds – Super Cheese 5 Pack
Don't forget the Gorilla Love kit comes free with every order and free seeds are included with all orders over  £34.99
Keep Your Eyes Peeled For Our Next Competition!
Big Gorilla Hugs and Kisses xxxx