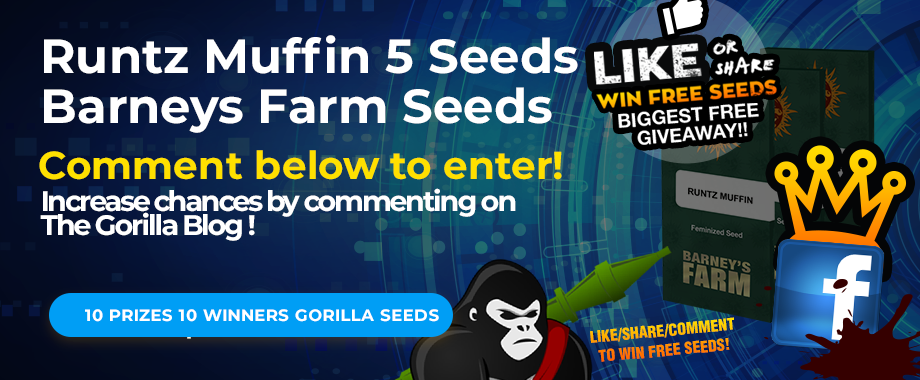 Check out this new Thing from Barneys Farm Seeds! What are these all about? Find out everything you need to know using the link below, or best still, win a pack on this mega awesome giveaway!
Read all about BARNEYS FARM RUNTZ MUFFIN
FROM NOW until Aug 19th 2020 00:00 UK Time, comment below, or on any of the platforms listed, for your chance at winning one of these awesome prizes. This special Runtz Muffin promo is only available at Gorilla Seeds!
How to Enter!
We are giving away 10 prizes of  Barneys Farm Seeds Runtz Muffin  so that's a total of 50 Seeds to be won . Enter on any or all sites to increase your chances of winning!
Facebook: Simply comment on THIS POST and of course give it a like and a share ( 2 prizes)
RollItUp: Simply comment on THIS POST( 2 prizes)
OverGrow: Simply comment on THIS POST.( 2 prizes)
BLOG: To enter via the blog post; simply comment below.( 2 prizes)
Congratulations Winners listed below
Thank you to everyone for taking part
Facebook:
Rollitup:
Overgrow:
Joboo
Swe-can
How to claim your prize.
1.email me directly with your address on [email protected]
2.email me proof that you are the winner i.e a screen shot of your profile page.
Peace
BIG G
#GORILLASEEDS