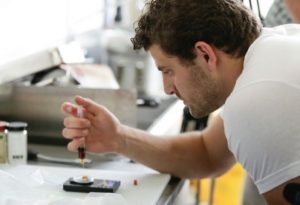 California voters are poised to weigh in on legalizing recreational cannabis this coming November, and 420-friendly entrepreneurs of all types are thinking up new ways to cash in as they satisfy what's expected to be an explosive demand.
Christopher Sayegh got an early start – he opened The Herbal Chef two years ago in Los Angeles with the idea of educating diners about the many medical benefits of cannabis by guiding them through a full meal of cannabis-infused gourmet cuisine including classic Middle Eastern fare, Wagyu Japanese beef and even medicated oysters.
Until recreational cannabis is legalized in California, Sayegh's affairs are strictly private and limited to diners with valid medical marijuana cards. The full experience costs between $300 and $500 per head and includes about 10 mg of THC and CBD divided across 5 to 15 different dishes. This immersive experience is designed to be subtle and pleasant – not to get you stoned out your mind.
Sayegh takes his guests on a smooth ride, gradually building the high over the course of the evening. Most people start to feel a little something by the third course, with practically everyone getting into the swing of things by the fifth.
Today, Sayegh personally hosts every meal after injecting each dish with concentrated oils from small syringes, similar to the ones used for RSO (Rick Simpson Oil), but he's also creating a frozen food line in anticipation of November's big vote. Each meal will be rich in both macro and micro nutrients plus have a dose of cannabinoids targeted towards cancer patients, diabetics or the elderly.
When will you see frozen food from The Herbal Chef in a Whole Foods or Tesco near you? Not any time soon for most of us, so you might have to start this journey on your own. Our recommendation? Start with the best ingredients from Cream of the Crop!