NEW GORILLA £200 SUMMER SEEDS FACEBOOK COMPETITION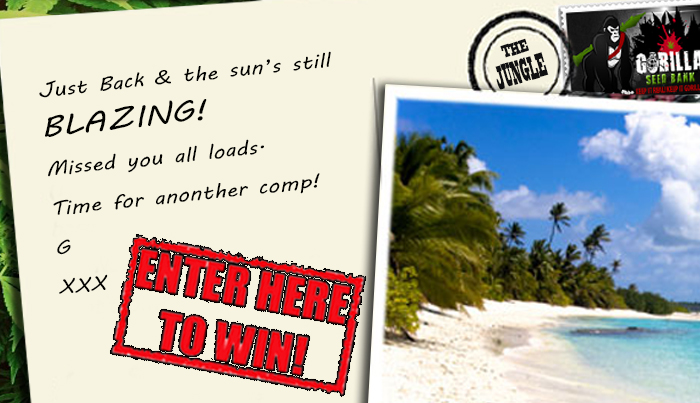 "In the summertime, when the weather is fine……"
Wow! The Gorilla is just back from his summer holidays and the weather is fantastic. To celebrate this rare event and keep the summertime joy rolling, The Gorilla has decided to offer all his Facebook fans yet another fantastic competition.
If you haven't seen The Gorilla's Facebook comps, you must live under a rock!
For a chance to win a 5 pack of Feminised Seeds, from the strains below, all you have to do is:
1. Like, Share and Comment on the Facebook comp thread and you're in!
2. Pour a nice cold drink, soak up the sun and dream of all those lovely beans.
That's It – Couldn't Be Any Easier!
For The Gorilla's famous 2nd chance prizes, just leave a comment below and you will be entered into a drawing for:
Keep all comments legal or they will be removed and you're out of the comp! Gorilla Seeds only sells weed seeds for collection and storage purposes, and until the law changes – germinating a cannabis seed is illegal.
All winners will be chosen at random, taking into account geographic locations. All winners must let GSB publish their names. Competition seeds will be sent recorded delivery and cannot be resent. If you don't get your seeds – you must take this up with your local post/customs.
What You Waiting For?